'Drunken idiots' return missing mini-golf dinosaur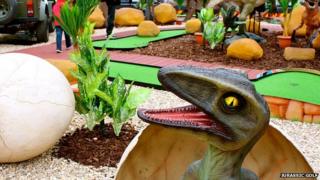 A stolen baby dinosaur model has been returned anonymously to a shopping centre with a note saying the thieves were "drunken idiots".
The velociraptor, part of a mini golf game at the Oracle in Reading, called himself Nigel in the note.
"Having seen the world, I am now ready to return to my dinosaur brethren," he continued.
He sparked a nationwide search in newspapers, and the Twitter hashtag #lostdinosaur was used 58,000 times.
Plans for Nigel
Nigel was stolen on 30 March.
Two men were seen on CCTV walking off with the 3ft (1m) dinosaur smuggled under a jacket.
But they forgot to hide its tail, which could be seen poking out as they left the temporary Jurassic Park-themed golf attraction.
The Oracle said the "wandering dino" was returned at 01:06 BST by two men, who were "believed to be the original duo spotted nabbing the dinosaur on The Oracle's CCTV".
The returned dino came with a letter stating: "I was liberated by well intentioned but ultimately misguided, drunken idiots."
The letter also disputed the Oracle's claim the dinosaur was a baby T-Rex, insisting he was Nigel the velociraptor.
Oracle general manager Steve Belam said: "We're absolutely thrilled about the return of our lost dinosaur.
"We're incredibly grateful to all those who helped in the hunt and are pleased to report that he is now back in his rightful place."
The two men are thought to have been part of a larger group of six.
Thames Valley Police is investigating the theft.