Plans for Reading Girls' School rebuild unveiled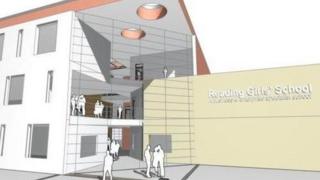 Plans are going on show ahead of the rebuilding of Reading Girls' School in Berkshire.
The school in Northumberland Avenue, which has about 650 pupils aged between 11 and 18, was established in 1818.
An exhibition showing what it will look like after it has been rebuilt in September 2016 is being held at the school between 15:30 and 19:30 BST.
Contractor Interserve Kajima and the Education Funding Agency will be there and want feedback on the designs.
Head teacher Viv Angus said the new school school would "enhance the existing excellent education that is already provided".
She said Interserve Kajima is working with the school to develop the final design by October.
Construction work is expected to start in November this year and is due to be completed in August 2016.