Broadmoor Hospital redevelopment new buildings revealed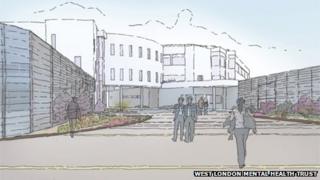 An open day about the £242m Broadmoor Hospital redevelopment has revealed what the new buildings will look like.
The work to build 16 new wards at the high-security psychiatric hospital in Crowthorne will be completed in 2017.
A West London Mental Health NHS Trust spokeswoman said that the patients will remain on site throughout the redevelopment.
The first open day is at Crowthorne Library until 19:00 BST and the second is in Sandhurst on 29 April.
Vivienne Mowatt, Broadmoor Hospital redevelopment manager, said local residents had shown "real interest" in the new 234-bed hospital.
Some of the hospital's 150-year-old buildings will be demolished during the redevelopment, which was approved in December 2013.
The trust previously said many "core aspects" of the site, such as its Grade I listed gatehouse, will remain, with buildings planned on parts of the site's woodland.
Broadmoor was described as an asylum for the criminally insane when it opened in 1863.