Reading's A4 Bath Road to close for sewer repairs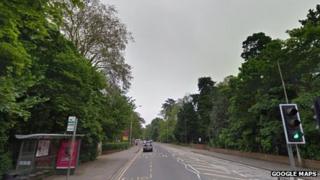 A stretch of the A4 Bath Road in Reading is to close in both directions for sewer repairs.
Thames Water said the area by Liebenrood Road in Calcot would be shut from 20:00 BST, and will be closed for about a week.
A spokeswoman said it was "a last resort" as the firm only discovered on Wednesday the collapsed sewer had caused a void under the road.
The diversion for traffic is via Liebenrood Road and Tilehurst Road.
Firm apologised
Bus services will divert via Southcote Lane.
The firm had already closed two of the three lanes on Bath Road for the repairs and had installed temporary traffic lights.
Thames Water spokeswoman Becky Trott said: "We've been working on that stretch for a week.
"Once we started digging down we found the problem was a lot worse than we originally thought".
She added the firm apologised to motorists for only giving four hours' notice before closing the road.
"It's an emergency," she said.
"We discovered the collapsed sewer also damaged the underside of the road surface so it is also for the safety of road users that we are closing the road".