Caversham precinct plans are unveiled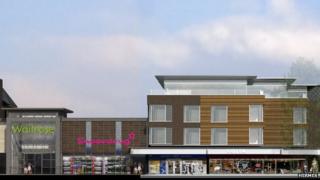 Plans to transform a Berkshire shopping precinct have gone on show to the public for the first time.
Proposals to redevelop St Martin's Precinct in Caversham were viewed by almost 500 people on Saturday and Sunday.
The project includes new apartments, shops and leisure facilities and is expected to create about 70 jobs.
Investment company Hermes, which owns the precinct, said feedback from residents has been very positive.
It has also been confirmed that the existing Waitrose store will be extended.
'Drab, sad, area'
Chris Walton, chairman of Caversham Traders Association, said: "They have said that they want to make it more of a community centre in the middle.
"It will make it more attractive, as it is a bit of a drab, sad, area there at the moment."
He added that one of the main concerns for local traders is that Caversham continues to be known for its independent traders.
He also said the association had asked for assurances from Hermes that rents for current business owners in the area would not be increased.
A spokesman for Hermes said both verbal and written comments from the exhibition at New Directions in Caversham were positive.
The company said it hoped to submit final plans to Reading Borough Council in the next few months.