Reading Girls' School rebuild plans are submitted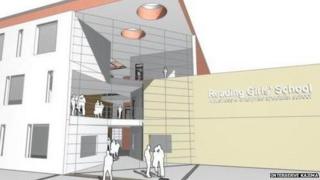 A Reading school could be knocked down and replaced, if plans are approved.
Contractors say Reading Girls' School is in a poor condition and they have submitted proposals to demolish its existing buildings and construct a new school. 
Head teacher Viv Angus said it would be a "21st Century state-of-the-art building".
The work would be carried out as part of the government's Priority School Building Programme.
The scheme aims to improve the schools in England considered to be in the worst condition.
The plans for the school, in Northumberland Avenue, include creating an 'L' shaped three-storey building, with an atrium space.
The ground floor will house the main school hall, dining area and a library and the first floor will accommodate most of the teaching spaces.
'Quality of education'
Science and creative arts will be taught on the second floor and the new building would have a four-court sports hall. 
Mrs Angus said the school would be able to stop spending money on trying to heat the poorly-insulated existing building and could provide more facilities for the community.
She said: "It will greatly enhance the quality of education we already provide here."
The school currently has a capacity of 947 but, because of its poor condition, only 656 places are currently taken up.
The new building will provide 1,050 places, including 150 sixth-form places.
If the plans are approved, it is hoped that the work can begin in March 2015.