Sue Ryder charity shop to use homeless volunteers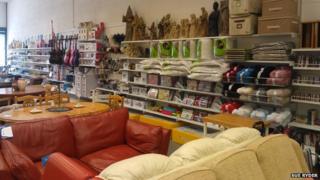 The biggest Sue Ryder charity shop in the south of England has opened in Slough and will be staffed by homeless volunteers.
The palliative care charity is working with a charity for the homeless to offer work experience.
Those helped by Slough Homeless Our Concern will join other volunteers in the new Farnham Road branch.
Slough-born 1990s music chart topper Tony Di Bart is helping to launch the store.
The homeless charity will offer volunteering slots to those who wish to work unpaid in the shop as a means to "rebuild their confidence, gain valuable workplace skills and feel part of the community," said project manager Mandy McGuire.
She added: "We believe that the partnership could really make a difference to the lives of the most vulnerable in Slough."
Sue Ryder area manager Jinny Shoosmith said proceeds from the shop would go towards specialist care at the Nettlebed Hospice in Henley-on-Thames and the charity's Duchess of Kent Hospice in Reading.
Di Bart, who scored a UK number one hit in 1994 with The Real Thing, said he was "delighted" the flagship store was opening in Slough.
He added: "I was born and brought up in Slough and I'm always happy to support the community."
Sue Ryder also runs a prison volunteer programme.