Newbury Racecourse housing plans unveiled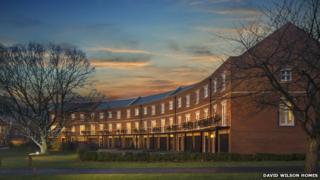 The next phase of a planned 1,500-home development at Newbury Racecourse has been unveiled at an exhibition.
Plans to build 700 homes in the eastern area of the multimillion-pound scheme were displayed at the Berkshire racecourse.
The eastern section of the plan has received outline planning permission.
The western section of the scheme is under construction, with the whole project expected to take up to 10 years to complete.
David Wilson Homes plans to bring forward the development in phases.
Daniel Pavely, project manager at David Wilson Homes, said: "Community feedback following our past exhibitions has been very helpful and we would welcome any further comments on these new designs before we submit our next planning application."
The masterplan for the 309-acre site includes 450 homes that will be affordable shared equity housing or available to rent.
In 2012, the owners of Newbury Racecourse sold land to David Wilson Homes to fund an upgrade of the racecourse.
This includes improvements to the racing, hospitality, conference and events facilities.
The exhibition featured computer-generated images, photographs, plans and an animation model.