Traffic study for third Thames bridge in Reading to begin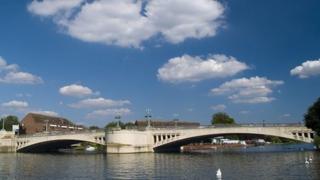 Politicians spearheading a project for a third Thames bridge in the Reading area have commissioned a traffic study.
The debate for a congestion-easing extra bridge in the Berkshire town and its neighbouring authorities, has been circulating for about 40 years.
Wokingham Borough Council, which will lead the study, said this step was "the closest we've ever been to getting a third bridge".
An online petition for a third bridge has attracted 4,000 signatures so far.
'Ease concerns'
All local authorities affected agreed at a Third Thames Bridge Summit to commission the study on the impact on traffic patterns, if there was to be a new bridge.
Reading East MP Rob Wilson said it was "a small but significant step forward".
He added: "Steps need to be taken to alleviate the serious congestion faced by our constituents".
Highways executive Keith Baker from Wokingham Borough Council, said the study should "ease concerns" Oxfordshire authorities have about the bridge bringing more traffic to its side of the Thames.
The borough will report its findings at the next summit in mid-July.