Greenham Common tower plans 'agreed in principle'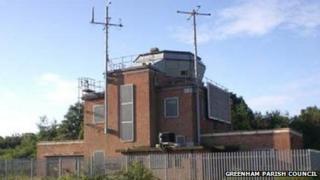 Plans to transform a disused Cold War airbase control tower into a visitor centre have been "agreed in principle".
The Grade II-listed tower on Greenham Common in Berkshire has been granted listed building consent by West Berkshire District Council.
Conditions of the approval include applying for consent to paint the tower and alter the exterior of the building.
Greenham Parish Council said it was a "giant leap forward".
Tony Forward, chair of the parish council which received £421,555 from the government to buy and refurbish the tower, said: "It means the principle of work on the building is approved.
"There are still hurdles, and the proposals are still subject to planning consent, but this is a giant leap forward in the conservation of Greenham Tower."
The parish council submitted a planning application for the proposals to West Berkshire Council in April, which include providing exhibition and office space and a cafe.
The base, which has been disused since it closed in 1993, was the focus of anti-nuclear protests when US cruise missiles were located there in the 1980s.
Following the airbase's closure, Greenham Common became a public open space in 2000 and is now home to a nature reserve and business park.