Anti-nuclear protestors chained to cars at AWE in Burghfield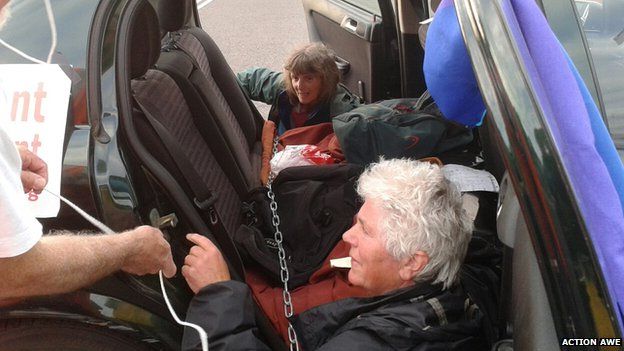 Police have arrested two anti-nuclear protestors at the Atomic Weapons Establishment (AWE) in Burghfield, Berkshire.
They were part of a group of 29 from Action AWE who had blocked all access to the site by chaining themselves to each other and to cars.
Police arrived with angle grinders to saw through the chains and clear the roads to allow staff to pass.
AWE said it recognised the democratic right of people to lawfully protest.
'Stop nuclear proliferation'
The protestors said they were opposed to an expected renewal of the UK Trident nuclear weapons programme.
MPs backed plans to renew Trident in 2007 by 409 to 61 votes and work was started on designs and £3bn spent on procuring items.
But in October 2010, the government decided to delay the final decision until 2016, after the next election.
The protestors blocked the entrances with cars and a trailer for five hours before Thames Valley Police and Ministry of Defence Police arrived at midday.
Action AWE said it was "calling on all Parliamentary candidates to commit themselves to voting against Trident renewal, scrapping nuclear arms and supporting an international treaty to ban all nuclear weapons".
Andrew Dey from Bradford, who took part in the protest, said: "We're not calling for the Burghfield and Aldermaston bases to be shut down.
"We're calling for them to stop working on nuclear proliferation.
"These bases can be used for disarmament purposes. We don't want these people to lose their jobs."
An AWE spokeswoman said: "AWE will continue to work with both the Ministry of Defence Police and the local police forces to ensure the safety and security of the Burghfield site.
"AWE recognises the democratic right of individuals to participate in lawful and peaceful protest activities."
There have been several protests at Burghfield over the last two years, the most recent one on 19 May.
Burghfield is seven miles from the AWE's other site at Aldermaston.
Related Internet Links
The BBC is not responsible for the content of external sites.