Reading Readybike critics angered by 'appalling' roads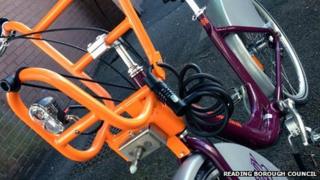 Cycling campaigners have described a new bike hire scheme in Reading as a vanity project that ignores the appalling state of the town's roads.
The ReadyBike hire scheme offers 200 bikes located at 29 docking stations.
But, Adrian Lawson of Reading Cycle Campaign said the £1.2m budget should have been spent on improving cycle lanes.
The borough council insisted the scheme would encourage "safe and extensive" cycling.
The orange and purple branded bikes can be hired for £4 per day for members via the ReadyBike website where real-time information will show how many machines are available at each location.
The project aims to help create an extra 2,300 daily cycle trips across the town.
'Doom-laden criticism'
However, critics say the cycle lanes in the town are not in good enough condition, are too narrow in places and novice cyclists could be putting themselves at risk.
Mr Lawson said: "The thing that limits us cycling in Reading is the appalling state of the infrastructure and the fear of drivers not paying attention - it's pretty scary."
Green Party councillor Rob White agreed and said: "Cycling in Reading is challenging - the £1.2m could have been spent on improving facilities that are more useful."
However Tony Page, deputy leader of Labour-run Reading Borough Council, said criticism of the scheme was "fatalistic and doom-laden".
"The council is determined to encourage even more people to view cycling as a sustainable way of travelling around town, particularly for short journeys," he said.
"Further improvements have to be made and we're committed to making those."
The scheme forms part of the council's £25m Local Sustainable Transport Fund project and is run by commercial operator Hourbike.