Bracknell public art: Saving the identity of a new town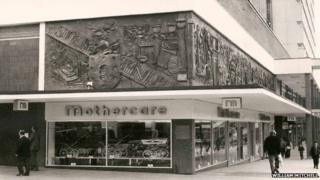 It's likely you have seen some of his work - William Mitchell's public art graces buildings all over the world.
From Honolulu to Harlow, cathedrals to council estates, he was one of the most prolific sculptors, artists and designers of the 1960s and 70s.
Among his greatest achievements are the magnificent bronze doors on Liverpool Metropolitan Cathedral but there are hundreds more murals and sculpted panels hiding in unexpected places.
One such piece is a bronze relief in a condemned shopping precinct in Bracknell, Berkshire.
Once little more than a large village, Bracknell was designated a new town in 1949 as the government attempted to move millions of families out of London.
Commissioned by the Bracknell Development Corporation in the 1960s, the mural above Mothercare in Charles Square describes the history of the new town and its surroundings.
Mr Mitchell, now in his 80s, said: "The reason I did it was to give a form of identity into the place.
"What people do not realise today was that going to a new town was a loss of the battle. You would be told that there was a dwelling available - in people's minds it was a sense of defeat.
"As soon as they had some money they would pack up their furniture and move back to London.
"This [mural] is to say, you are not moving from an area that's top-notch, you are moving into an area that's top-notch."
At the start of the 1960s, Mr Mitchell worked for the London County Council, creating artworks for schools, social housing projects and other public buildings.
In 1965, when the council was disbanded and the GLC formed, many of its former staff were hired by the various development corporations tasked with further expanding the new towns and giving them a beating heart.
"I'm talking about the 60s when everything was a-go-go," Mr Mitchell said.
"Then, things were going to be done - there was a sense of achievement."
But, despite the corporation's efforts to improve the town, not everyone agreed with the decision to commission public art without the approval of the Arts Council. The bronze frieze was eventually installed above a concrete canopy, high on the precinct wall, almost out of view.
Mr Mitchell said: "It is a great pity it was put on a height like that, maybe for the best intentions, but it would be much better in a school or play garden or somewhere on ground level.
"People say ruffians might get around it and paint on it, but that's what happens and it would be better if one was familiar with it.
"I think it should to go in an area - and not because I made it - where you do not have to use psychological thinking to interpret it."
The imagery on the fibreglass and bronze panels is very literal, making reference to Roman history, incursions by Danes, Jutes and Saxons and Bracknell's royal links through the ages.
But soon the building will be razed to the ground, like a third of the town centre, which is being completely remodelled.
The frieze, along with a number of other public works, will be saved and reinstalled in the new development.
Bracknell Forest borough councillor Marc Brunel-Walker said: "We realised that there were certain pieces around the town centre that are an important part of our heritage. They represent a lot of good things people like about the town centre.
"The images are important to people, to keep continuity for the future as part of the town centre work."
Andrew Radgick, chairman of the Bracknell Forest Society, which has been campaigning to save Bracknell's public art, said: "Bracknell has a unique history. Only 200 years ago it was in Windsor Forest - there is no one that has that history and we have a lot to be proud of.
"If you stood on the bandstand you would have got a very good view of that mural. It might not have been ingrained on people's consciousnesses in the same way as if they had walked past it but it made you stop and look at it."
Nine of William Mitchell's works have been listed by English Heritage but the history of Bracknell is not one of them.