Slough Council bans 'extremists' group from its buildings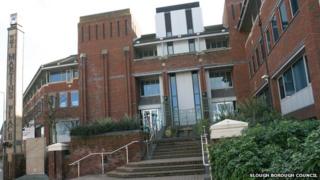 A group with alleged links to suspected terrorist organisations has been banned from all council buildings in Slough.
Police and Slough Borough Council officers visited Chalvey Community Centre on Tuesday to deliver letters informing members they were not welcome.
Radical Islamist preacher Anjem Choudary, who was speaking at the meeting, has criticised the council for being "anti-Muslim".
No arrests were made.
Council officers said they made the decision after they were alerted to the possibility that the group was linked to Al Mahajiroun or Muslims Against Crusades (MAC).
They are both proscribed organisations under the Terrorism Act 2000 and membership of either group is an offence.
The group, which has between 15 and 25 members and had been meeting at the community centre for a couple of months, left peacefully.
'Nothing untoward'
Council leader Rob Anderson said: "Groups with extreme views are not tolerated in Slough - not by us, not by the police and not by our residents.
"Though we are unhappy this group chose Slough to meet, we are committed to working with police to disrupt any activities by groups like this in our buildings, especially when it is illegal or likely to cause divisions in our community."
He added members of the group appeared to be mainly from outside the borough.
However Mr Choudary said the meeting was held to discuss aspects of the Muslim faith and that women and children were present.
He said: "The allegation is clearly anti-Muslim. Nothing untoward was taking place whatsoever. This intimidation and oppression is what Muslims face on a daily basis."
Supt Simon Bowden, of Thames Valley Police, said: "We work closely with our partners at the council and local residents and take seriously any concerns about the spread of violent extremism and those who seek to radicalise.
"Both Thames Valley Police and Slough Borough Council are committed to protecting communities from organisations which may seek to exploit them for extremist purposes."