Preacher Anjem Choudary vows to continue Berkshire lectures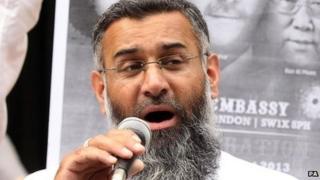 Radical Islamist preacher Anjem Choudary has vowed to continue holding meetings in Berkshire – despite police breaking up his last lecture in Slough.
A meeting of a group with alleged links to suspected terrorist organisations was broken up at Chalvey Community Centre on Tuesday.
It also led Slough Borough Council to ban the group from its buildings.
Mr Choudary criticised the police and council and accused the government of "trying to silence people".
He said: "The fact is, they can't tolerate people who oppose their foreign policies and they are trying to silence people who oppose them.
"I have lots of meetings, seminars and lectures almost every single day and week and I have been continuing with my activities.
"I will probably be increasing them now the police want to ban people.
"I don't think they are going to have any impact apart from isolating, demonising and vilifying the Muslim community even more than they have done so far."
Police and Slough Borough Council officers delivered letters at the meeting telling members of the group they were not welcome.
Council officers said they made the decision after they were alerted to the possibility that the group was linked to Al Mahajiroun or Muslims Against Crusades (MAC).
Both are proscribed organisations under the Terrorism Act 2000 and membership of either group is an offence.
No arrests were made.
Slough Borough Council leader Rob Anderson said "groups with extreme views are not tolerated in Slough".
He added the council would work with police to disrupt any activities by similar groups in its buildings.
Mr Choudary said no crimes were committed and he had been talking about how Muslims should prepare for Ramadan and what was "going on in the community".