Sewage discharged into River Thames at Maidenhead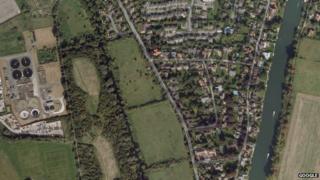 Sewage has been discharged into a stretch of the River Thames in Berkshire, the Environment Agency has said.
A blocked pump at Maidenhead Sewage Treatment Works is thought to be the cause of the problem.
The agency said the pollution was having a "noticeable impact on the watercourse" and some fish have died.
Thames Water said it was "sorry" and blamed a build-up of wet wipes in a pipe.
A company statement said the waste had only been through the early stages of the treatment process.
"We're working closely with the Environment Agency to minimise the impact on the watercourse. We're sorry that this has happened and will continue to do everything we can to clean up the river," it added.
The Environment Agency said peroxide and aeration units were being used to minimise the impact, which continued to be assessed.