Mike Barton battles floods and thieves in 366-day tent challenge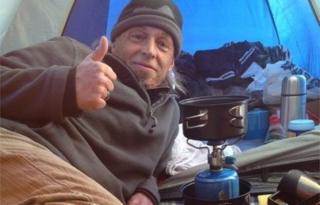 A man who is trying to live in a tent for a year-and-a-day has survived floods and thieves during the first four months of his charity challenge.
Mike Barton, 46, began the feat in March to raise awareness of fire prevention after suffering horrific burns in a house blaze aged four.
He is currently camping in woodland near his Newbury home in Berkshire before travelling further afield.
Among "low points" were his tent being flooded five times and being robbed.
But Mr Barton, who suffered burns to a third of his body in the fire at his family home in Bolton, said he is determined to reach his 366-day target.
Laptop stolen
"There's been several points where I thought about giving up - like the five times I've been flooded out," he said.
"It's a horrible feeling when it's 2am and you can feel water underneath the tent before it breaks through and soaks everything. But people have been amazing... so I'm going to keep going."
Self-employed Mr Barton, who is buying his own supplies and pitching up at campsites and private land, said he has struggled to continue to work while living in the tent.
His problems were made worse when his laptop and two of his phones were stolen from his car after he "stupidly" left a door open.
He has been spreading his fire prevention message to school children and members of the public during his travels.
Mr Barton's 366-day tent challenge is raising money for burns units at the Royal Manchester Children's Hospital and the Odstock Centre in Salisbury.