Plans for 30 floating homes on Theale Lake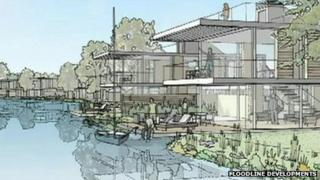 A waterside development which includes floating homes is being planned in Berkshire.
Thirty "can-float" houses have been proposed for Theale Lake, as part of the 200-home plan which is now under public consultation.
Some local residents are worried it will increase the risk of flooding in the area and damage wildlife.
Floodline Developments says its proposals aim to alleviate flooding and include plans for a nature reserve.
It says the floating homes "are able to rise and fall with varying water levels in the lake" when it is "being used to attenuate excess floodwater".
Hangar Road, close to the proposed Burfield Park development site, was closed due to flooding in the winter.
Catherine McEwan, from Theale Area Bird Conservation Group, said the area was under 3ft (1m) of flood water.
"If the thing gets built and it's found not to work it's too late," she said.
The group said the area was one of the most important sites in the country for nightingales, and was one of the first places in Berkshire to have breeding oyster catchers.
The development, planned for an area of land adjacent to the lake, would also include new cycleways, footpaths and open spaces.
Floodline Developments said it would also make a "significant contribution" towards a new sailing club.A planning application has yet to be submitted to West Berkshire Council.