Woodley war memorial unveiled by Duke of York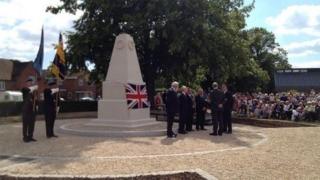 A war memorial has been unveiled in a Berkshire town after a three-year appeal for the first permanent tribute to residents killed in conflicts.
Campaigners raised £26,000 to install a memorial in Woodley, which previously had no focal point for remembrance ceremonies.
The Duke of York unveiled the 12ft Portland stone obelisk in Woodford Park.
Fundraiser councillor Bill Soane, said it was "long overdue".
The Woodley War Memorial Project fundraising team had wanted the memorial erected in time for the centenary of the outbreak of World War One in August.
Mr Soane said: "We're delighted - it will be visible to everyone passing by, which is what we've wanted.
"The public, businesses and schools have rallied round and raised funds - the children in particular have been fantastic."