Broadmoor Hospital sirens sound after thunder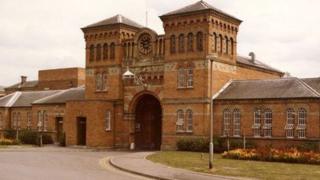 An emergency siren for Broadmoor high security psychiatric hospital was set off because of an electrical storm.
The alarm, originally intended to alerts residents to an escaped patient, started sounding in Bracknell at 04:30 BST and lasted for about three hours.
The hospital has since apologised to residents. The sirens, originally installed in 1952, are usually tested on Monday at 10:00.
A £242m redevelopment of Broadmoor Hospital began in January.
Virgina Nolan, from Bracknell, said it went off after a "massive clap of thunder".
She said: "There was a searing, piercing light coming through the room... and then I heard what I thought was a car going off, and I thought 'no, that sounds like the Broadmoor siren'.
"You would think they'd have a contingency plan for this - just pull the plug or something."
A West London Mental Health NHS Trust spokesman said: "This morning at approximately 04:30 the Broadmoor siren located in Bracknell was activated due to the electrical storm experienced in the south east.
"[We] contacted British Telecom to resolve this issue.
"The trust has been consulting with parish and town councils on proposals to decommission seven of the 13 community-based sirens because of their age and associated technology.
"Our proposals include the decommissioning of the Bracknell siren."
Elsewhere, hundreds of homes in Reading were without water for several hours after the electrical storm caused a power cut which stopped pumps at Emmer Green.
Local schools, including Highdown School, were forced to close. Thames Water said supplies were restored by 11:00 BST.