'Faster' new route for Reading half-marathon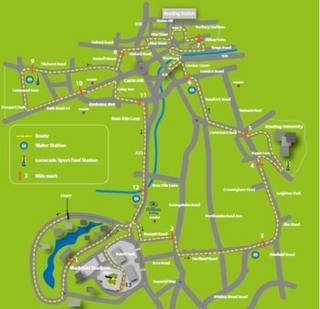 Reading half-marathon organisers have unveiled a new "flatter and faster" route for next year's event that removes some of the uphill struggle.
The 14,000-plus runners will now also avoid the "heartbreak" of passing the Madejski stadium end point while still having a mile left to run.
Race director Nick Pearson said he had responded to feedback from participants of the annual 13.1 mile race.
He added the fastest runners could reduce their times by about 30 seconds.
British focus
The race, on 22 March, will place the more "serene and peaceful" part of the course through Green Park at the start instead of the end.
Usually runners have to run through the park for a mile after passing the Madejski Stadium, where the finishing line is.
"It's almost like an optical illusion," said Mr Pearson.
"You're so close to the stadium but you have to run an extra mile. It's incredibly disconcerting."
The new course also cuts out the "dreaded inclines" and turns of Northumberland Avenue and part of Whitley Wood Road, making it a flatter, faster route.
Despite the changes enabling a swifter running pace, Mr Pearson said he did not think the course's record time of 61 minutes and 19 seconds - held by Kenyan runner Patrick Makau - would be broken.
He said the African runners, who usually win and "hoover up the prize money", were no longer attracted in taking part as the organisers decided that, as of last year, to give the lion's share of prize money to the fastest British performance.
"Our focus has been to bring the top British athletes to the race," he said.
This year's fastest time was 64 minutes and 44 seconds by British runner Scott Overall.