War memorial unveiled in Slough to mark WW1 centenary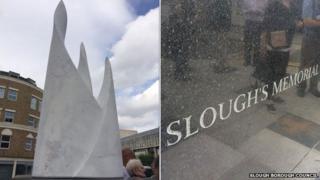 A war memorial has been installed in Slough to mark the centenary of the outbreak of World War One.
Slough's mayor, Councillor Shafiq Chaudhry, unveiled the memorial at the junction of High Street and Windsor Road.
He said: "Slough's new war memorial is a testament to all those who have fallen, then and since."
The memorial will take centre stage at a candlelit vigil being held between 22:00 and 23:00 BST.
Elsewhere in Berkshire the lights in Town Hall Square in Reading will be switched off for an hour at 22:00 as part of the nationwide Lights Out event.
Across the UK, people were encouraged to turn out their lights and leave a single candle burning to echo Sir Edward Grey, foreign secretary in 1914, who said on the eve of war: "The lamps are going out all over Europe, we shall not see them lit again in our lifetime."
Other Lights Out events in Berkshire include a candlelit drumhead service at Sandhurst Memorial Park and a service at St Paul's Church in Wokingham, both from 21:00.
Reading Minster Of St Mary The Virgin will be open all day with prayers and readings on the hour, and residents are invited in to light a candle.
Earlier, Henley Road Cemetery in Caversham its opened Field of Remembrance where the public can plant wooden crosses with poppies in the ground throughout day.
There was also a service at the Caversham War Memorial organised by the British Legion.
On Tuesday residents can view the large-scale murals honouring the World War One dead by Berkshire artist Stanley Spencer, housed in the reopened Sandham Memorial Chapel in Burghclere, Hampshire.