Berkshire village raises £60,000 for flood defences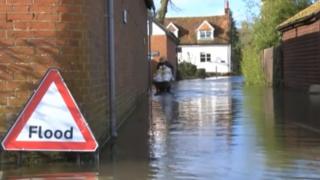 A community has raised £60,000 to build a flood alleviation scheme to protect their Berkshire village.
Villagers in Eastbury, which flooded earlier this year and in 2007, raised the cash over three years through donations and fundraising activities.
Resident Liz Goodman said the achievement was a "huge milestone" because it would allow construction to start.
The Greenham Common Trust also donated money to the project.
An earth embankment and a flood storage area will be constructed to restrict the flow of water and hold it back from the village.
No date has been set for construction work to begin, but it is likely to be the end of September.