Liquid nightclub in Windsor gets boxing event licence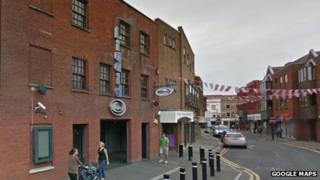 A nightclub in Windsor has been granted a licence to hold indoor sporting events including boxing and wrestling.
The application by Liquid in William Street met opposition from nearby residents who feared extra anti-social behaviour from "drunken" club-goers.
A Liquid spokeswoman said the club was "pleased" with the decision and the sports activities would be held within its licensed opening hours.
The sporting activities can also include subbuteo and karate.
'Extremely frightening'
The club already holds a licence to be open from 11:00 to 04:30 seven days a week, but "generally opens for business" from Thursday to Sunday.
Nearby residents voiced fears the sporting events would mean the club is open more frequently.
Laura Cannon, from Russell Street, said she had heard people leaving the nightclub "drunk and disorderly, shouting, falling over and screaming".
Harrison and Suzie Carradice, from Alexandra Road, said the area was "blighted" by the club and claim "drunken pedestrians" caused criminal damage to their home.
They added in their letter of objection: "As an elderly couple this is extremely frightening."
Councillor Phillip Bicknell, who chaired the Royal Borough of Windsor and Maidenhead's licensing panel sub-committee, said they were not being asked to look at the licensing hours but specifically at whether they should allow the club to hold sporting events.
He added: "Our sympathies are with the residents.
"But it's important they ring the police on the 101 number because that will create a trail of evidence if we get into a review situation of nightlife in general or of a specific club."