Man killed by police car named as Aston McLean Williams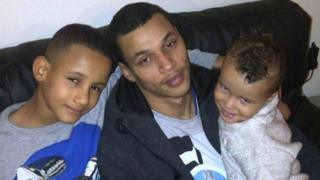 A 28-year-old man who died after being struck by a marked police car in Reading has been named as Aston McLean Williams from the town.
The father-of-two died at the scene of the crash in Wokingham Road on Wednesday at about 01:45 BST.
Investigators from the Independent Police Complaints Commission (IPCC) have been door-knocking in the area to find potential witnesses.
An inquest is yet to be opened.
Mr McLean's mother Janet Williams said: "Aston was so gentle but strong, always tried his hardest, he was the rock in his family's life.
"Such a wonderful dad to his 10-year-old son Déjàn and four-year-old daughter Jodice and brother to Calvin, Lewis and Aliah.
"Our lives feel empty and will never be the same due to this tragic loss.
"I pray to God we will receive some justice for this and anyone who has any information will find it in their heart to come forward so we may rest knowing what really happened to Aston."
Data recorders analysed
The IPCC said it had obtained CCTV from Reading Borough Council and was looking for other CCTV images that may have captured the incident.
Mr McLean and an officer from Thames Valley Police were hit by the car as it responded to a burglary in Eastern Avenue.
The police officer was taken to hospital with non life-threatening injuries and has since been discharged.
The police car is undergoing further forensic tests and its onboard data recorders are being analysed.
IPCC associate commissioner Guido Liguori said: "I would like to offer my condolences to Aston's family at this difficult time.
"We have met with his family to explain our role, while our investigators have made good progress in recovering a range of evidence to ensure that our investigation is able to provide them with a comprehensive account of what happened."