Reading Festival tickets not sent out by See Tickets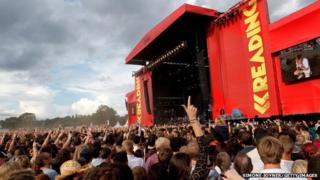 Reading Festival fans have been told an official ticket agent will not send out tickets and buyers must collect them.
The BBC has been contacted by people who paid extra for postal delivery but who were then told to collect the tickets from the Hexagon theatre.
See Tickets said 250 orders were "regretfully not despatched in time" and postage costs would be refunded.
It said tickets could be collected with a letter from the cardholder, without the cardholder being present.
Festival Republic, which runs Reading Festival and uses See Tickets as an official agent, has yet to comment.
The festival, on the outskirts of Reading, off Richfield Avenue, is due to open later.
Many of the 90,000 music fans attending the festival bought tickets seven months ago when they went on sale.
Some parents who had bought tickets for their children believed they would have to travel to Reading ahead of the festival after See Tickets initially said the cardholder would need to be present.
G Rainy Brown told the BBC: "How incompetent a company do you have to be to not be able to despatch a product within six months of receiving payment?"
Younger festivalgoers from as far away as Cornwall and Wales took to Twitter to complain.
A spokesman from See Tickets said it had dealt with 90,000 orders in total for the festival, and apologised for the inconvenience to those affected.