Berkshire haystack arson attacks investigated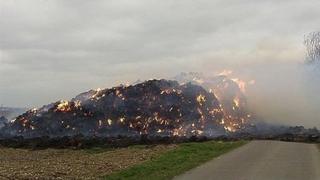 A 600-tonne hay fire on the Berkshire/Hampshire border is being treated by police as the latest in a series of haystack arson attacks.
Firefighters were called at 03:30 BST in the early hours of Tuesday to farm land off Copperage Road, between East Illsley and Farnborough.
It comes after four similar fires in Berkshire in the past nine days.
Thames Valley Police is asking farmers with large haystacks to contact them in case these become the next target.
Police said there have been four recent cases of arson on haystacks in or near Berkshire. There have been two in Winterbourne, one in Kintbury and one near Maidenhead.
National Farmers Union advisor Annie Vernon said the hay would be worth between £50 and £100 per tonne.
She said large hay fires were "a massive problem for the industry, not to mention the health and safety impact".
Royal Berkshire Fire And Rescue Service said the fire off Copperage Road was still ongoing.