James Alexander Gordon's family request hospice donations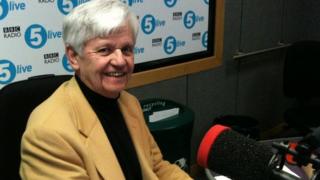 James Alexander Gordon's family has nominated the hospice where he was cared for up until his death as the official charity for donations.
The broadcaster, best-known for reading the classified football results on BBC radio for 40 years, died at the Sue Ryder Duchess of Kent Hospice in Reading, Berkshire, on 18 August.
He retired following throat surgery after he was diagnosed with cancer.
A private funeral for family and friends was held on Thursday.
A tribute page for those wishing to donate to the hospice has been set up.
Julia Alexander Gordon said: "It was a place that allowed James and I to have good times together, even when he was so ill.
"I was made welcome by everyone and he couldn't have had better care. James himself described the care he received... as 'beautiful'.
"From the day he arrived until the day that he died, holding my hand, I couldn't have asked for anything better."
Tributes poured in for Gordon from the football and broadcasting worlds following his death at the age of 78.
Having been diagnosed with cancer, he had surgery in 2013 to remove his larynx, which meant his voice was no longer strong enough to broadcast.
He was replaced by former Radio 4 newsreader Charlotte Green.
Gordon was married to Julia, with a son, David, and two grandchildren, Molly and Martha.