Wokingham Borough Council switches off more street lights to save cash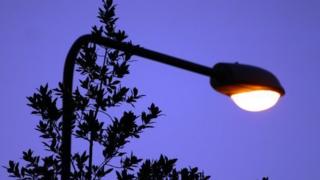 More than 500 street lights will be switched off overnight in order to save a Berkshire council money.
Wokingham Borough Council said the lights would be turned off between 00:30 BST and 05:30.
The move is part of its part-night lighting scheme, which so far involves 1,434 lights.
The council said police had been involved in choosing the 504 lights to make sure they were not in areas with high crime levels.
'Safety of residents'
It added that residents had been informed of the changes by letter and each of the lighting columns affected would have a permanent sticker attached.
Councillor John Kaiser, executive member for planning and highways, said: "Street lights are carefully chosen to become part of the part-night lighting scheme, and the wellbeing and safety of residents and motorists is key to this.
"We've been carrying out part-night lighting since 2009 and so far 1,434 street lights have become part of the scheme with an annual saving of £18,000 per year per 1,000 part-night lights."
The selected lights will also be upgraded with new, safer columns and will be more energy efficient.