Cookham Dean burglary victim writes open letter to offenders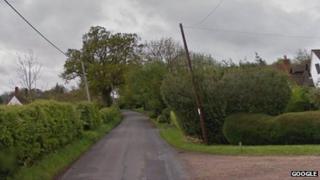 A burglary victim has written an open letter via police to those responsible for ransacking his home near Maidenhead.
Bill Larke from Grubwood Lane, Cookham Dean said he hoped the message would lead to the return of items "precious to us" but "worthless" to anyone else.
He wrote: "In your wake you leave loss, sadness and disbelief that you could have done such a cruel thing."
Thames Valley Police said it was appealing for information.
'Do you care?'
Mr Larke said the letter was the result of an "emotional outburst" after discovering his cottage in the rural Berkshire village had been broken into on 27 August.
Burglars had stolen his late father's silver fob watch and his wife Catherine's Scottish guardsman pendant given by her father when she was eight. A necklace given by her mother was also taken.
Mr Larke wrote: "I watched her sit and cry, spilling tears for the memories of the precious things you have taken from her.
"Priceless to her, how much for you? Do you have any sense of thought for the distress you cause to others? Do you care?"
He also wanted the burglars to know they were not "posh, privileged or stuck up" but were hard workers who ran a small business that meant working long hours.
He ended the letter with: "You seem oblivious to the pain you cause to innocent people who don't know you, and don't have any reason to mean you any harm.
"It is in your hands to stop this now."