Christmas comes early in Bracknell town centre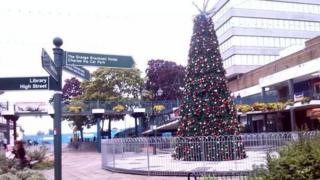 Festive lights, decorations and a Christmas tree have been put up in Bracknell.
The unusual timing is for filming for the BBC Two series The Wrong Mans.
The decorations went up in the town centre on Thursday and will be removed in about a week.
When asked why, Bracknell Forest borough councillor Marc Brunel-Walker said: "It's a great secret which will become clearer to residents over the festive period."
The appearance of the tree caused confusion among residents.
Mark Wing tweeted: "So it would seem that my home town has just erected this year's Christmas tree. It IS still September, right? Good job, Bracknell. Good job."
Tim Coker tweeted: "#Bracknell has a #Christmas tree. Or maybe it's a beautifully decorated bonfire for a very lucky Guy. It's Sept 5th!"
The tree and decorations will go back up in late November for the town's annual light switch-on.
The second series of The Wrong Mans features comedian James Corden and co-star Matthew Baynton playing two council workers from Bracknell, who inadvertently become entangled in a world of crime and corruption.