Reading residents plead for Thames Water work to end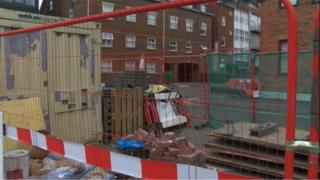 Residents living close to a site in Berkshire being used to store equipment for water repairs have pleaded for the work to end soon.
Thames Water has been replacing water pipes in Reading since April, with a storage site being used in Vachel Road.
Residents said dust had stopped them opening windows and work took place on mornings and bank holidays.
The water firm said the town centre work was vital and it had tried to minimise disruption.
Resident Gogul Sivanandhan said he feared his newborn baby could develop a dust allergy.
'Massive inconvenience'
Mr Sivanandhan said: "I have a one-month-old baby and we aren't able to open the windows at all. I'm afraid my baby will develop a dust allergy because of this."
Equipment and rubbish is being taken to and from the storage and welfare site by contractor Optimise.
Reading East MP Rob Wilson said he had received a "large number" of complaints about the site but has now been told by Optimise it will leave by mid-October.
He said: "It's a massive inconvenience to residents in the road. Residents are obviously very upset."
A Thames Water spokesman said: "It's vital that the water pipe replacement work is done to maintain water supplies to town centre homes and businesses, and we're only working during the day time to keep disruption to a minimum."