Reading Cow Lane widening scheme hit by delays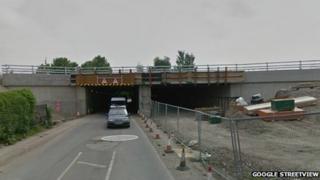 A scheme to widen a busy route through Reading is facing delays.
Plans to improve the road under the Cow Lane bridges are being held back as Reading Borough Council negotiates with local land owners.
Deputy leader Tony Page said the talks to purchase land from a number of companies could delay work by up to a year.
Reading West MP Alok Sharma has now offered to step in to help speed up the negotiations.
The council needs to take over additional land alongside Richfield Avenue in order to complete the widening works.
'Absolutely essential'
Mr Page said the council could be forced to go down a lengthy legal route to push the move through, if an agreement cannot be reached.
He said: "If necessary we will have to use the formal legal procedures, as the land is absolutely essential to delivering the full benefits of the bridge widening."
Mr Sharma said: "It is very worrying and I would be very happy to help and intervene to see if there is anything I can do as a Member of Parliament to assist in this process.
"We have got a really successful project at the train station, it is below budget, it is opening ahead of time and really it would be fantastic if we could get Cow Lane bridges done on time as well."