The Sanctuary opens at Thames Hospice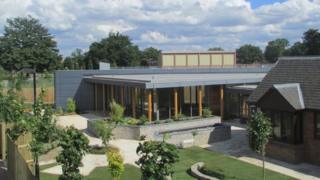 A £700,000 "state-of-the-art haven" is opening at a hospice in Windsor.
The Sanctuary at Thames Hospice features sensory mood sounds, music and lighting, a 3m (9ft 10in) cinema screen, and landscaped gardens, as opposed to a traditional chapel.
Jacqueline Clark, chief executive, described it as a "hugely important facility... to support the people of Windsor and the surrounding areas".
The Countess of Wessex is opening the new centre.
Ms Clark said: "It will allow patients to reflect on their lives with their loved ones.
"What we've tried to create is something that's a multi-denominational space away from our busy in-patient unit."
It was funded by donors and a Department of Health hospice grant.
The charity provides nursing and medical care to local people with illnesses from which they are not expected to recover.