Groups hit out at Reading Borough Council £8m budget cut plan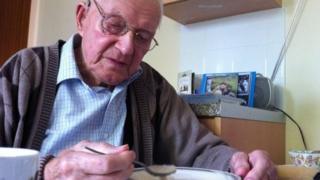 Health and care groups in Reading have hit out at the council's proposals to cut £8m from frontline services.
Adult social care will face the biggest cut, of more than £1m, which Age UK has called "incredibly scary".
The National Obesity Forum has called plans to cut more than £400,000 from public health "criminal".
Reading Borough Council said "year-on-year cuts" in central government funding and a population rise had put a "strain on council resources".
The council needs to find £25m in cuts over three years, from 2015 to 2018.
Its budget for 2014/2015 is £413m.
Age UK Berkshire chief executive Mike Allan said the £8m cuts already identified would affect care for the elderly, including nursing and sheltered accommodation.
National Obesity Forum chairman Tam Fry said Reading's threatened public health initiatives were "absolutely essential" to "quell obesity".
"It is criminal the council is thinking of cutting them," he said.
'Plush civic centre'
Central government cuts have meant almost 90% of councils in England no longer offer social care to people whose needs are ranked low to moderate.
But Reading East MP Rob Wilson, Conservative, said the Labour-run Reading Borough Council did not need to cut frontline services to make savings.
"Reading Borough Council has built up a debt of £300m over the past 15 years or so and is spending 15% of people's council tax on debt interest," he said.
"I don't think this was a sensible thing to do."
He also criticised the council's £60m spend on a "plush new civic centre".
Council leader Jo Lovelock said previous cost-saving measures "tried to avoid impacting on the frontline services we deliver".
"We are now at the point where we no longer have any choice but to make some of the difficult decisions which will undoubtedly have an effect on those services," she said.
Councillors will consider the proposals at a policy meeting on Monday.