Reading Buses warn of disruption due to Thames Water works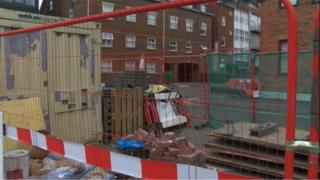 Bus passengers in Reading have been warned to expect major disruption over the next fortnight because of ongoing water works.
Reading Buses said diversions and road closures will be in place from Saturday until 5 October.
Company head James Freeman said this phase of the Victorian water mains replacement work, which started in April, "will see the worst disruption".
Thames Water said the work was "vital" and apologised for any disruption.
'Disruptive works'
"We can't wait for the end of these disruptive works," said Mr Freeman.
"We have had to move bus stops, divert routes and suffer extended journey times."
Reading Buses said services that use Station Road, Blagrave Street and Friar Street East, serving Reading Station, are affected.
The north-south section of Blagrave Street, between Forbury Road junction and Valpy Street, will be closed all weekend.
During the works the one-way traffic flow in Friar Street East will be reversed and all bus stops normally in Station Road will be relocated there.
Thames Water spokeswoman Becky Trotman said the town's old pipes were prone to leaks and said: "We're sorry for the disruption we're causing but it's always better to do this as part of a planned scheme of work."