Birch Copse Primary School horse statue stolen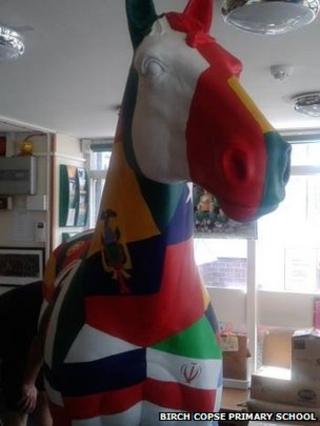 A 6ft 6in (2m) statue of a horse has been stolen from a school.
Children and staff at Birch Copse Primary School in Reading were surprised to discover that the life-sized statue they had decorated had disappeared from the school field.
Headteacher John Micklewhite said it was hard to imagine how someone managed to take the horse, which is 7ft 6in (2.3m) long.
Thames Valley Police is investigating the theft.
The white horse had been given to the school by Newbury Racecourse and the children had decorated it with a World Cup design as part of a competition.
'Very heavy'
After winning £500 for their design, the horse was given pride of place in the school field.
However the theft was discovered earlier by the school's caretakers.
Mr Micklewhite said: "The children worked really hard to paint it and it was a lovely conversation piece to have in the school grounds.
"It was anchored by its feet to the ground and it was very heavy, but we think it might have been lifted over the fence somehow.
"Nobody can believe it's gone, because how can you hide something that big?"
The school is hoping that it is a prank and that the horse will be returned.