Reading Bridge to close for 'essential' work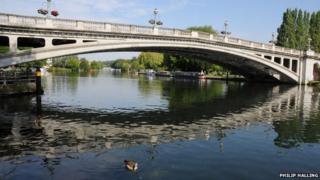 Drivers will face months of delays as work on a major route through Berkshire takes place.
Work to strengthen Reading Bridge will begin in November and could last up to 18 months.
Reading Borough Council said it is "essential" as the bridge is almost 100 years old and needs to be strengthened and made waterproof.
It will include a number of lane closures and there will also be short periods when it is fully closed.
However the council is unable to say how long for. Although it said the majority of closures will take place overnight.
'Strategic route'
The strengthening work is due to be completed in the summer of 2015.
But a statutory public notice detailing an 18 month closure will be published this week.
The council said the notice has been worded this way to allow for unforeseen circumstances or if an emergency closure becomes necessary for public safety reasons.
Tony Page, the council's lead member for transport, said: "Reading Borough Council has had a long-standing ambition to create a third Thames Bridge, and that very much remains the case.
"Notwithstanding whether that comes to fruition however, Reading Bridge will continue to be a major strategic route through the town, and indeed the wider region, for many years to come.
"We need to ensure the bridge is in a good enough condition to be able to continue to carry the amount of traffic it does on a daily basis."