New road access opens to £6m revamped Wokingham train station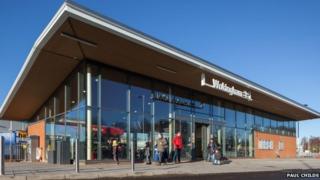 A new link road to the £6m revamped Wokingham train station has opened.
The council says the road and its A329 Reading Road junction will ultimately ease traffic congestion in the area.
However it admitted that motorists would continue to face delays, as the existing route from Wellington Road/ Barkham Road and Station Road are closed to be upgraded.
Residents have raised concerns about whether it will ease traffic jams.
'No confidence'
Councillor John Kaiser, who is responsible for highways and planning at Wokingham Borough Council, said: "This is an exciting stage of this project - the unveiling of this much-awaited and important new road, and the start of the process to remodel traffic flow in and around the station to ultimately ease congestion."
However he asked drivers to bear with them while the additional work is carried out.
But Dorian Edwards, who lives just off Barkham Road, said the work has caused chaos and that his neighbours were unsure whether it would make any difference.
He said: "We really have no choice but to to wait and see what happens, but I have absolutely no confidence that it is going to be any good."
The station's revamp was opened in March.