Wargrave farm unveils 'first' floating solar panels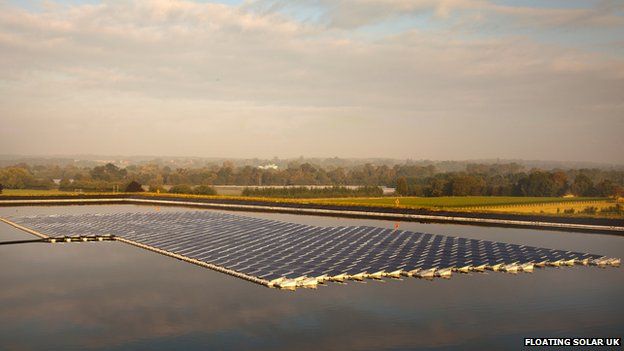 A floating solar panel project, believed to be the first in the UK, has opened in Berkshire.
The collection of 800 panels, which are mounted on plastic floats, has been installed on a reservoir at Sheeplands farm in Wargrave.
Mark Bennett, from the soft fruit farm, said the green energy project has helped it to diversify.
He believes the technology could be used by other organisations, such as utility companies.
He said: "We already have about 150 panels on the site and that powers our soft fruit production fridge, our tractor workshop and the industrial units.
"We built a reservoir at the beginning of the year to irrigate the soft fruit production on the farm and we wanted to piggyback on the back of that another solar panel system."
It cost the farm £250,000 to install the panels, which will earn renewable electricity subsidies. Mr Bennett has also set up a company, Floating Solar UK, to distribute the technology in the UK.
He said: "We are a fourth generation farm so we have had to diversify, because it's hard...This green energy [provides] another revenue stream."
Related Internet Links
The BBC is not responsible for the content of external sites.