Motor Neurone Disease respiratory machines donated to hospital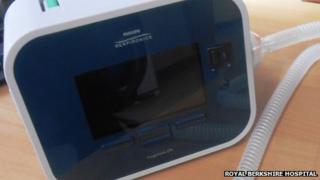 Four respiratory machines have been donated to Royal Berkshire Hospital in Reading by the Motor Neurone Disease Association (MNDA).
The Reading and West Berkshire branch raised £12,000 to buy the "cough assist" machines that help to relieve oral secretions caused by the disease.
A fund-raising appeal was launched as the hospital only had one such machine in its respiratory department.
MND is a rare condition that damages parts of the nervous system.
'Early death prevention'
The branch said the machines help MND sufferers feel more comfortable and would prevent "distressing hospital admissions and early deaths".
The equipment will be based at the hospital and will be available for people to use at home.
MNDA spokeswoman Jan Gryglaszewska said: "People with MND often die from respiratory failure and in some cases it appears to be presenting itself at a much earlier stage, shortening life expectancy.
"One lady developed a chest infection very quickly and died. This could well have been prevented if a cough assist machine had been available."
A Royal Berkshire Hospital spokesman said: "This is a really generous gift which we are very grateful to receive.
"These machines will be of great benefit to our patients."