Reading's third bridge idea 'moves forward'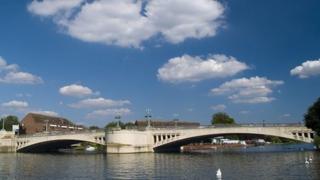 Authorities have agreed to move forward with the idea of a third River Thames bridge in the Reading area.
Wokingham council highways boss Keith Baker called it a "major step" following the meeting between councils in Oxfordshire and Berkshire.
They said there was a "proven need" for the extra bridge after the results of a traffic study were published.
The debate for a congestion-easing bridge in the A3290 area has been circulating for about 40 years.
Mr Baker said results showed the bridge "would be beneficial to all concerned".
"We've agreed to very detailed modelling which will decide where the bridge will go. That's a major piece of work which will take 18 months to do.
"I'm very, very pleased. You don't make an investment like this unless you're very serious."
An online petition for the third bridge has attracted 4,670 signatures so far.
Wokingham Borough Council is carry out a more detailed traffic study, which is currently under way.
No exact location has been decided yet, but councillors are looking at the A329M area by Thames Valley Park, with a view to connecting the dual carriageway to Caversham.
"We also have to look at the impact on outer areas like Oxford, Henley, Bracknell and Tilehurst," said Mr Baker.
"The need for the bridge has been proved, so we're now looking at a more detailed low-level study."
He estimated the bridge and any road alterations would cost between £60m and £100m, which would require government funding.
Currently in the area there are two Thames bridge crossings in Reading and one in Sonning.