Great Train Robber Tommy Wisbey charge sheet auctioned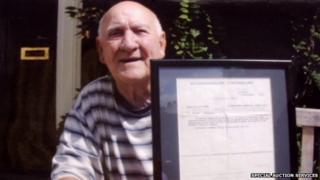 An original charge sheet belonging to one of the Great Train Robbers has fetched £750 at auction in Berkshire.
Tommy William Wisbey was a bookie hired as "muscle" for the Great Train Robbery, which took place on 8 August 1963.
Wisbey, whose role in the heist was to frighten the train staff, was sentenced to 30 years' imprisonment for his involvement but was released in 1976.
The sheet had been estimated to sell for between £300 and £500.
It was sold on behalf of Wisbey by Special Auction Services in Newbury.
Adam Inglut, antiques and collectables specialist, said an internet bidder won the sheet but he did not know who he was or where he was from.
The gang raided a Glasgow to London mail train and escaped with £2.6m in used bank notes.
The haul from a mail train in Cheddington, Buckinghamshire, was a record at that time.