Police hunt six men on two bikes after Slough robberies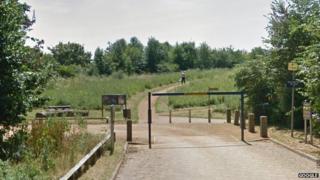 Six men who crammed on to two motorcycles are being hunted by police after a series of robberies in Slough.
In the first robbery, in Herschel Park, last Thursday, an 18-year-old boy and his friends were approached by six men on two motocross bikes.
Three men, one with a knife, on one of the bikes, demanded their phones.
Shortly afterwards, a woman and her children were approached in Upton Road by three men on a single blue motocross bike who grabbed her gold necklace.
The first incident happened at about 15:00 BST. The men, believed to be riding a riding a black, red and white Suzuki motocross bike, escaped with two iPhones.
Following the second robbery, at about 15:20, the blue motorcycle left in the direction of Lascelles Park.
Det Con Daniel Spiers of Thames Valley Police CID said: "I would like to hear from anyone who was in Herschel Park or Upton Road at the time of these robberies, or anyone who may have seen two motocross bikes in this area on Thursday."