Tesco store in Berkshire investigated over milk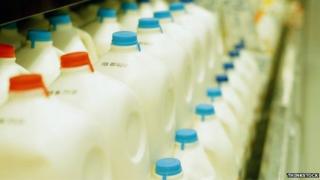 A Tesco store in Berkshire is being investigated by trading standards for selling out-of-date milk.
The BBC understands the milk was two days past its use-by date at the shop in Burghfield Common last week.
West Berkshire Trading Standards said it will investigate the store's procedures. Businesses can be fined up to £5,000 per out-of-date item.
Tesco apologised and said it was committed to ensuring its food was sold fresh.
A spokesperson added: "We work hard to ensure we always have fresh products on our shelves - we apologise if on this occasion a product was displayed which shouldn't have been."
Sean Murphy, from trading standards, said: "There are two dates in use on foods in the UK, the first is best-before dates and they tend to go on foods with longer shelf lives where food safety isn't a major issue.
"Then you have this use-by date which goes on a lot of short-life food, often refrigerated food, such as milk and meat.
"If a food is past its use-by date it is unlawful to offer it for sale."