Alexander Walters' sentence upheld over cyclists' deaths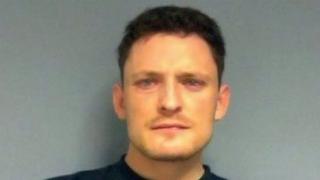 A convicted bomb hoaxer and fraudster who killed two cyclists while driving a stolen car has had his sentence upheld at the Court of Appeal.
Alexander Walters, 31, struck John Morland, 30, and Kris Jarvis, 39, in Purley Rise, Purley-on-Thames, on 13 February while almost two-and-a-half times over the legal alcohol limit.
He was sentenced to 10 years and three months.
His previous convictions include one for a bomb hoax after the 9/11 attacks.
'Utter devastation'
Walters, from Purley, pleaded guilty to a total of seven offences at Reading Crown Court in April, including dangerous driving and aggravated vehicle-taking.
He was driving a stolen BMW at about 70mph (112kph) in a 30mph (48kph) zone when he lost control and hit the two cyclists.
Appealing for a reduction in his sentence, his barrister James House said: "There's nothing that's attractive about this appeal. His selfish actions caused utter devastation.
"There's little more a man can do than come to the court and say what he did. It's important in that case, he should get the one third credit he deserves."
But Mr Justice Globe rejected the sentence appeal and backed the decision of the trial judge.
Outside the court, a spokesman for the families of the cyclists said: "They were satisfied with today's outcome, but would rather not have had to come to court at all."
Walters, previously from Cardiff, is a Russian-born orphan adopted by a Welsh vicar when he was 17.
In 2001 he was sentenced to two years custody after phoning a bomb hoax to Heathrow Airport days after the 11 September terror attacks.
He has a string of other convictions, including for fraud, and had been disqualified from driving for four years in 2010.