Reading planning laws 'costing residents money'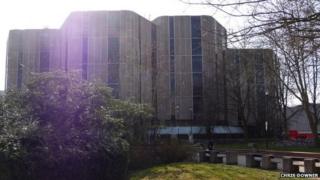 Changes to planning laws mean residents in a Berkshire town will have to pay up to £2m more towards schools, homes and roads, according to a councillor.
Reading Borough Council's deputy leader Tony Page says the changes mean developers no longer have to pay to apply for planning permission to convert offices into flats.
He said the council had so far lost out on £1m.
He warned this would have a knock-on effect for people in the borough.
In May 2013 planning laws were changed, allowing developers to convert offices without the need for permission.
'Permanent thing'
According to Mr Page, hundreds of empty offices in Reading have been turned into flats since then.
He said: "The knock-on effect is that council tax payers in Reading are probably going to have to stump up another £1.5m to £2m that would otherwise have been contributed by developers towards schools, houses, parks and roads."
Dr Steve Musson, an expert on town centre regeneration from the University of Reading, said the changes could cause problems in the future.
He said: "It's quite a permanent thing, because once we have turned some office buildings into residential buildings it is really difficult to turn them back as there are people living there.
"This means they are going to be looking at creating new buildings or moving out of town."
However, housing minister Brandon Lewis said: "Our change-of-use reforms are providing badly needed homes such as studios and one-bedroom flats for young people, especially in London and the South where there is a particularly acute need for more housing.
"But it is disappointing that Reading council only seems interested in ways to rake in cash, rather than supporting practical ways to regenerate town centres and help young people get on and move up the housing ladder."