'Execute travellers' Tory councillor Alan Mellins suspended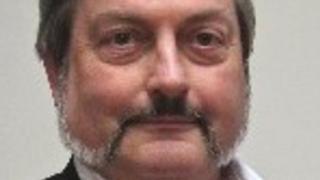 A Tory councillor from Berkshire who joked that travellers refusing eviction should be "executed" has been suspended by his party.
Cox Green councillor Alan Mellins made the remark at a Royal Borough of Windsor and Maidenhead council meeting on Monday.
He later apologised and said the remark was not to be taken seriously.
The borough's Conservative Party called the comment "deplorable" and one that was "not tolerated" by the party.
The remark was made at Maidenhead Town Hall when councillors were discussing the length of time to evict travellers who did not have planning permission.
Windsor and Maidenhead Conservative Party leader David Burbage said the comment was "being taken extremely seriously".
Mr Mellins has been suspended from the party and from his council positions pending further investigation.
Chair of the Gypsy Council Joseph Jones said the suspension was "the least that should happen".
He added: "I hope it will continue to be taken seriously, I've seen similar incidents happen in the past when a councillor is suspended but then it gets swept under the carpet and the next thing you know he's back bright-eyed and bushy-tailed."