Maidenhead man jailed for skull crack foot stamp at wedding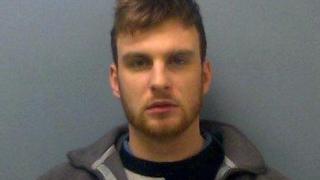 A "violent" criminal, out on licence, who stamped on a man's head fracturing his skull at a wedding has been jailed.
Christopher Lennon, 28, from Maidenhead, Berkshire, stamped on the other wedding guest's face so hard, the imprint was still visible a day later.
The alcohol-fuelled attack took place at a hotel in Maidenhead last December.
He was sentenced to five years at Reading Crown Court for what Judge Ian Grainger called an "appalling and unprovoked" attack.
'Very short fuse'
Lennon had been a wedding guest at the Fredricks Hotel, Maidenhead on 7 December when he assaulted fellow guest Oliver Burnett, an infantry soldier, in the male toilets, the court heard.
Judge Grainger said Mr Burnett, a father-of-one, had been punched to the floor, before being stamped on, which resulted in a fractured skull and an emergency operation to remove a blood clot from his brain.
At the time, Lennon had been out on prison licence for three months, after being jailed for causing grievous and actual bodily harm using a broken bottle during an altercation in 2011.
Lennon had pleaded not guilty to causing grievous bodily harm to Mr Burnett, claiming self defence, but a jury convicted him after a trial in September.
Speaking at the sentencing, Judge Grainger called Lennon a "violent offender" and said his attacks were due to a combination of "alcohol and a very short fuse".
He added: "This was an appalling and unprovoked attack on a fellow guest at a wedding".
Speaking afterwards, Mr Burnett, who still suffers from memory loss and has been left with a permanent scar to his head, said: "I'm quite over the moon and happy with the sentence. Justice has been served."