Ufton Nervet 2004 rail crash: Bridge being built at crossing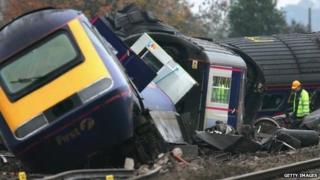 Work to build a bridge over a level crossing 10 years after a train crash that killed seven people will start "very shortly", Network Rail has said.
Another four people have died at the Ufton Nervet crossing in Berkshire since the 2004 tragedy, which also left 120 others injured.
Mick Cash, of the RMT union, said it was "impossible to believe" all safety changes had not already been made.
Network Rail said other improvements were in place.
'A constant reminder'
The crash, involving a London-to-Plymouth First Great Western service, happened when the train collided with a car that had been deliberately driven onto the automatic half-barrier level crossing.
Those killed included the driver of the car, chef Brian Drysdale, 48, of Reading, and the driver of the train, Stanley Martin, 54, from Torquay.
The latest death was last month, when Gary Provins, 60, from Calcot, was struck by a train and killed at the crossing. Police said his death was not being treated as suspicious.
Network Rail said safety measures had been implemented, including moving the points that were involved in the derailment of the train in 2004 and emergency communication improvements.
It said the investment into the modernisation of the Great Western Main Line has provided access to the funding needed to build the bridge.
Mr Cash said: "Ufton Nervet serves as a constant reminder of the ever-present danger of mixing road with rail and RMT will continue to campaign for the speed-up of the phasing out of level crossings and their replacement."
Network Rail has closed more than 800 crossings in the past five years and has agreed to close another 500 by 2019.